Coming April 7 and 8, 2018!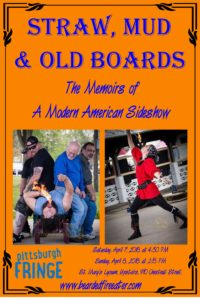 As part of the Pittsburgh Fringe Festival
Saturday, April 7 4:30 pm
Sunday, April 8 2:15 pm
at St Mary's Lyceum, 910 Chestnut St
In Pittsburgh's North Side, 15210
Ever Wonder:
Do we ever get burnt?
Does Sean's beard catch fire?
What interesting characters have we met on the road and in our audiences ?Join Sean Miller & Kristin Ward as they bring you behind the canvas and share with you the tales of their lives presenting a Modern American Sideshow.
TWO DAYS ONLY! Presenting in Partnership with the Pittsburgh Fringe Festival, www.pittsburghfringe.org